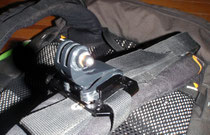 I am trying and experimenting the wide angle camera on my backpack strap. It offers me good onboard views in Full HD when I am walking the streets, buying stuff or meet people.

Here are a couple of screenshots taken during a hike. More to come soon, and I am now working on the sound.

J'essaye et j'expérimente la caméra grand angle fixée sur la bretelle de mon sac. Elle me donne de bonnes images embarquées en Dull HD quand je marche dans la rue, quand j'achète des choses ou que je rencontre des personnes.
Voici quelques images prises lors d'une randonnéee...J'attaque maintenant le son sur ce dispositif.