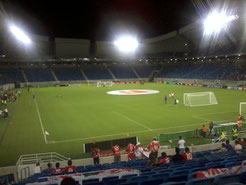 English below
Déjà deux mois et demain, ce sera la mi-temps pour Au coeur du Brésil.
Déjà deux mois et plus de 4 000 km parcourus. Demain il en restera plus de 10 000 à faire.
Déjà 6 villes visitées et encore autant à découvrir, des heures de films, surement certains meilleurs que d´autres.
De nombreux amis rencontrés en chemin, de ce genre de personnes à qui l´on s´ouvre intensément et sans retenue, car chacun sait que ces rencontres éphèmères ne dureront pas et qu´il est inutile de tricher ou de cacher.
C´est pour ces moments que j´aime le voyage, pour ces instants où freiné par la langue ou la fatigue, pressé par le temps ou libéré de tout jugement extérieur, on peut être soi-même, encore plus entièrement qu´ailleurs.
Je viens d´arriver à Fortaleza et j´ouvre un nouvel article consacré à Natal que je viens de quitter.
Il fait 31°C et c´est la mi-temps ici au Brésil.
Already two months and tomorrow, it will be halftime for At the Heart of Brazil.
Already two months and more than 4 000kms done yet. Tomorrow it will last more than 10 000 to do.
Already 6 towns visited and as much to visit, hours of rushs, probably some of them better than others.
Many friends met along the way, this kind of people to who you intensely and unrestrainedopen, because everyone knows that these fleeting encounters do not last and that it is useless to cheat or hide.
It is for these moments that I love travel, for those moments when hampered by language or fatigue, pressed for time or released from any external judgment, you can be yourself even more fully than anywhere else.

I just arrived in Fortaleza and I hopen a new blogpost about Natal that I just left.

It is 31°C and it is halftime here in Brazil.